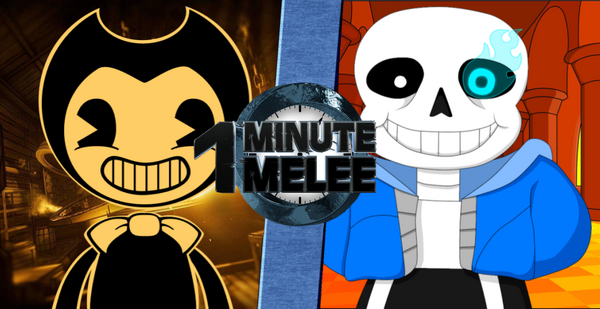 I know I've finished this before but I'm making a new version of this.
Description
Bendy and the Ink Machine Vs. Undertale! Which popular indie game character with the creepiest smile you've ever seen would win?
Intro
60 SECONDS
2 FIGHTERS
1 VICTOR
1 MINUTE MELEE
Select Your Character
P1 Selects Bendy
P2 Selects Sans
Melee
Destination: Snowdin (Undertale)
sans is seen sleeping until bendy attacks him sans is now angry and summons a gaster blaster
NOBODY BLINK
FIGHT
the blaster shoots bendy but doesnt affect him
60
bendy shoots ink blobs and spikes and sans but he dodges them and and uses his soul manipulation to throw bendy away
50
bendy turns into demon bendy and rushes sans but gets hit by bones and magicc
40
bendy summons serchers and sammy to attack sans
30
they all died by gaster blaster but when sans looks around bendy is nowhere to be
20
sans is confused and turns around to see beast bendy charging at him
10
unfortunatally sans had no time to dodge
999999999
K O
Conclusion
THIS MELEE'S WINNER IS...Bendy
Community content is available under
CC-BY-SA
unless otherwise noted.