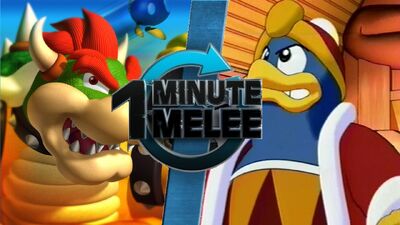 King Dedede vs. Bowser is the 11th episode of Hipper's One Minute Melees.
INTRO
ONE MINUTE MELEE!
WHERE ALL THE FIGHTS ARE SETTLED IN 60 SECONDS
TWO FIGHTERS
NO RESEARCH
60 SECONDS
MELEE
GO!
The Fight
"I need a monster to clobber that there Bowser!"
"Show time!"
WHO WILL BE CROWNED THE BEST NINTENDO VILLAIN?, FIGHT!
King Dedede and Bowser run at each other very fast.
King Dedede smacks Bowser in the face with his hammer, and follows up with a hammer uppercut.
Bowser is launched back and starts shooting fire balls at King Dedede.
King Dedede knocks them all back with his hammer, causing them to hurt Bowser.
Bowser then starts spinning in his shell doing a Whirling Fortress and spins towards Dedede.
King Dedede tries to hit Bowser, but Bowser's shell protects Bowser, and Bowser scratches King Dedede in the face.
King Dedede is then hit by another scratch, then followed up with a Flying Slam.
King Dedede rolls out of the way from Bowser's fire and hits Bowser in the face.
Bowser tries to scratch Dedede, but the King ducks and trips Bowser.
He then charges up his hammer and knocks Bowser out of his castle and into a mountain.
"That'll teach ya to mess with me!"
KO!
Aftermath
THIS MELEE'S WINNER GOES TO...KING DEDEDE!