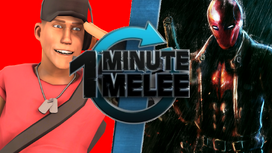 The Scout vs. The Red Hood is a What-If? One Minute Melee. It features Red Hood from DC Comics, and The Scout from Team Fortress 2.
Description
Can the fast and loud-mouthed RED Team member take down the Red Hood?
Interlude
ONE MINUTE MELEE
WHERE ALL THE FIGHTS ARE SETTLED IN 60 SECONDS
2 FIGHTERS
NO REASEARCH
60 SECONDS
MELEE!
Go!
MELEE!
The Scout was walking through the RED Base when he noticed an intruder. He got his Scattergun ready, and ran to see who it was, and saw the Red Hood.
Scout: No intruder gets past the RED Team!
NOBODY BLINK!
FIGHT!
Scout shot mercessly at Red Hood, who tanked each attack and got his AK-47 ready, and fired back. Scout was slightly impaled by one attack.
Scout: Hey! Your'e gona pay!
Red Hood stared at Scout a bit, and then continued firing, although Scout dodged all of them. Scout got another gun aout, and Red Hood also got another one and continued their bullet-firing, both bullets seeming to never hit the combatants. Red Hood pulled out a much larger one. Scout decided to use his trusty weapon: a baseball bat.
Scout: You're doomed!
The RED Team member hit Red Hood seveal times, who still didn't take much damage. Scout then got decapitated from a blast, just as he ran off.
KO!
Results
THIS MELEES VICTORY GOES TO..
RED HOOD!