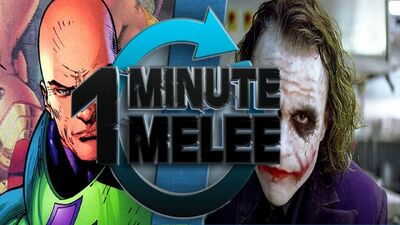 Episode 3 of Hipper's OMMs
Intro
2 FIGHTERS,
NO RESEARCH,
60 SECONDS,
1 MINUTE MELEE
Fight
Lex Luthor is creating a new Kryptonite Suit to combat Superman, until he sees his door blow open.
The Joker and Harley Quinn come in and aim their guns at Lex.
"Give us all your money or me and Harley will gun you down!"
Lex hopped into his War Suit, and fire a laser beam at Harley, killing her instantly.
"Give up, Joker?"
"You will pay for killing Harley, though I didn't really care about her."
"I'll tell her that once I revive her in the Lazarus Pit."
FIGHT!
The Joker leaped on Lex, but Lex threw Joker off him and starting smacking him around.
He then kicked Joker into a machine, which Joker bounced off.
Joker then pulled out some dynamite, and threw it at Luthor.
Lex blocked it with his hand, but it broke Lex's force field protecting his head.
"Crap".
Lex then fired some laser beams from one of his palms, and the Joker hid behind a desk, dodging Lex's beams.
Lex then walked towards Joker's location, but as Luthor was, Joker cocked a pistol, ready to fire.
As Lex throw the desk where Joker hid, Joker shot his gun at Lex's head, but Lex fired a blaster, destroying Joker's gun.
"Uh Oh."
Joker then shot his Acid Flower at Lex's face, but Lex ripped it off and threw Joker out the window.
Joker met his demise that day, and only his goons attended his funeral.
KO!
THIS MELEE'S WINNER GOES TO......LEX LUTHOR!
Trivia
This is Hipper's Third OMM
This is Lex Luthor's fourth OMM
This is Joker's second OMM